Create your business listing
On a platform made for Curlees by a Curlee and connect with the right clientele
Create Listing
CurleeMe Features Include
CurleeMe Listing
Your very own profile page to connect with our users, who are hungry to find a hairstylist
Profile & Cover Photo
Attract clientele with a photo that says a lot about your business and the services you provide
Stylist/Salon Bio
Add a headline, bio and history to encourage clients to learn more about your business
Stylist Specialties
List your area of expertise so clients can narrow down their search and quickly find you in their area
Popular Services
List the services you provide to help with searchability and transparency
Photo Gallery & Video
Intrigue your clients with a photo gallery and video to get them enthusiastic about booking with you
Appointment Booking
Make booking easier by activating appointment booking right on your profile or link to your existing booking system
Website Linking
Get more leads to your website by linking your website to your CurleeMe profile. The more info about you the better!
Health and Safety Measures
Allow your clients to feel at ease by listing the measures you're taking to keep them safe and healthy
Promotions & Specials
Broadcast your specials and promotions on your profile for your clients to take advantage of them.
Pre-Consultation Form
Allow clients to send you photos and additional information before their first consultation with you
Get Promoted on Our Website and Social Media Platforms
Get highlighted on CurleeMe platforms and reach even more people. Workshops and Live sessions available!
CurleeMe is simply the much needed directory created to find stylists specializing in kinky, coily and curly hair!
Be a part of a network of sought out natural hair care specialist, curly hair specialists, braiders, barbers, locticians, weave specialists and color experts in the US and Canada. Our goal is be a part of the movement of promoting healthy natural hair care by making it easier to connect the community with kinky, coily and curly hair stylists in their area.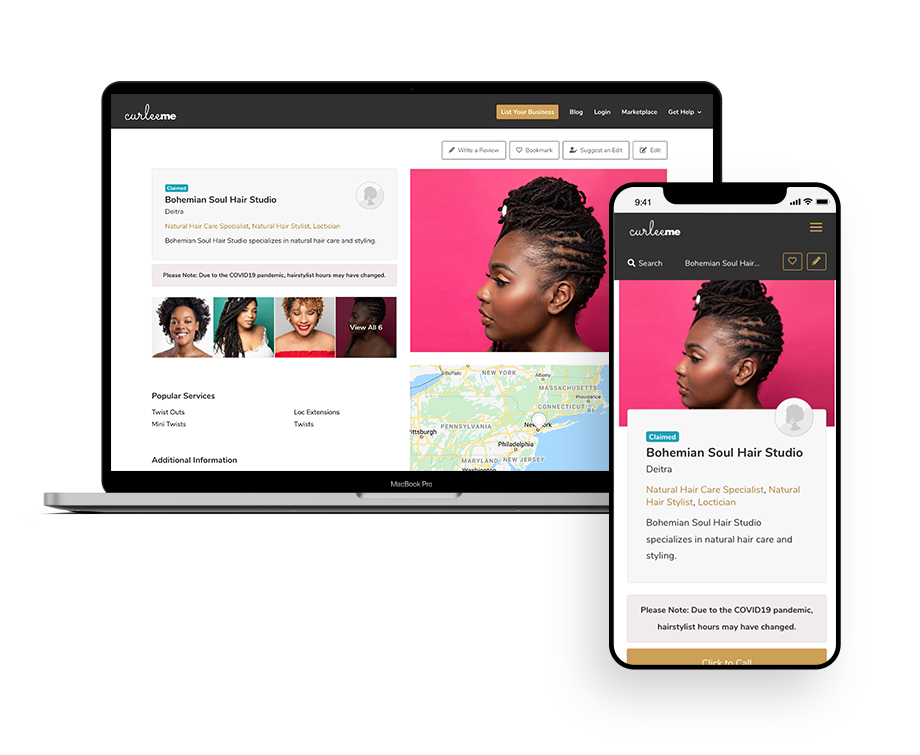 Get listed and found in a directory dedicated to kinky, coily and curly hair
Get found easier on a platform dedicated to the clientele you seek.  Join over 600 natural hair care specialists, braiders, barbers, locticians, weave specialists, color experts and more in the US & Canada.
List your specialties and services
Get listed under the right criteria. Pick from a list of dedicated specialities for natural hair care and promote the right services you offer to your clients. Give them some visuals by adding profile photos,  a photo gallery and video of your salon or services. 
Get featured on our website and social media channels
With a full salon profile containing your bio, images, specialties, services, hours, and amenities, get featured to 1000s of our website users and over 25K followers on our social media so new clients can get a chance to get to know you.
Easily connect with clients
We provide all the tools for clients to contact you by phone, email, physical location, and social media. In addition, start a consultation with an email form for your clients to send you pictures and details about their hair before the consult. Take it a step further and use CurleeMe as your booking site.
Book appointments with Setmore right from your profile
Don't miss out on a chance to easily manage your clients and book appointments directly from your profile. With Setmore integrated, you can now be found and get booked all on one platform. Also take advantage of getting payment deposits and send out reminders to booked clients. Your success is our goal!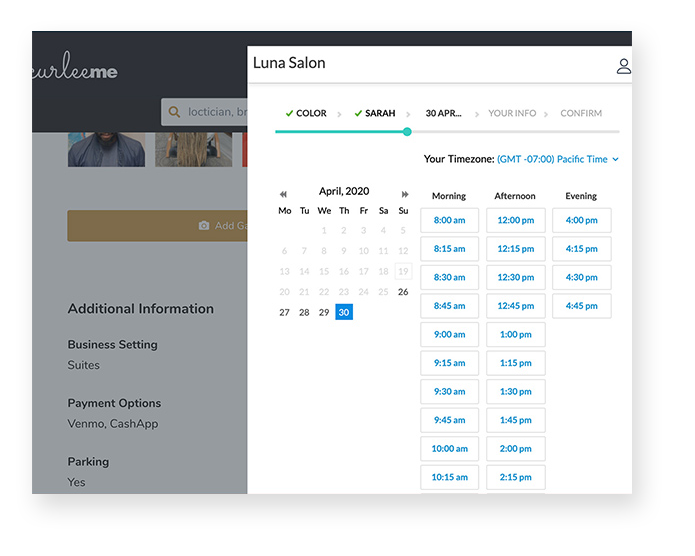 Our hairstylists are loving CurleeMe!

The professional reliable directory of natural hairstylists

I love CurleeMe! It's easy to use and allows me to promote my business directly to my clientele base.

CurleeMe is an excellent platform for curl clients and naturalistas! The website is easy to navigate and very efficient. All the information for clients looking for stylist is customized to your need.
Become a CurleeMe stylist today!
Entry Membership
1 Listing

Profile & Cover Photo

1 Stylist Specialty

1 Popular Service
Lifetime Membership
One Time Fee
1 Listing

Stylist/Salon Bio

Profile & Cover Photo

Stylist Specialties

Highlight Popular Services

Photo Gallery*

On-profile Appointment Booking* or link to current booking platform of your choice

Link to Website

Health and Safety Measures

Display Promotional Video*

Promotions & Specials

Contact Form

Hairstylist Features on Our Website and Social Media Platforms*

And More!
Already have an account? Login to change your membership.
What type of hair stylists can we find on CurleeMe?
We serve hair stylists that love to take care of kinky, coily and curly hair types. Specialties found here are natural hair care specialists for adults and children, braiders, locticians, extension specialists, and colorists.
How does CurleeMe pricing work?
Our plan is a one time fee. No monthly subscriptions.
What forms of payment accepted?
We accept all major credit card payments.
What is your refund policy?
We don't offer refunds.
Can clients book appointments with me?
Yes, with our Lifetime Membership clients can book appointments with you directly through our platform or your 3rd party appointment link. We've partnered with Setmore, an online booking system to allow your clients to book right from your profile page! All you need is a free Setmore account.
Am I able to edit my own profile?
Absolutely yes. You will have access to all features based on your plan so you will be able to edit any business related information on your profile.
When I sign up for my business, what happens?
We will review your submission. The review process will take up to 24 hours.
Why do I need a member account if I'm not a hairstylist?
Currently, a member account allows you the benefit of bookmarking your favorite stylists, vote up reviews, add reviews and ratings.
Can I use CurleeMe outside the US?
CurleeMe is currently dedicated to natural hair stylists in the US and Canada but we plan on expanding soon.
Don't miss out on connecting with the right clientele on the right platform.