CurleeMe is a community created for stylists who specialize in kinky, coily or curly hair.
Be a part of a network of sought out naturally curly hair care specialists, locticians, braiders, barbers and more in the US and Canada.
Our goal is to help promote healthy natural hair care by making it easier to connect the community with kinky, coily and curly hair stylists in their area.

Reach new clients looking to start their hair care journey
Get listed on the CurleeMe directory to expand your reach to the right clientele looking for your hair care services everyday.
Sell your hair products and accessories to more people
Sell on our unique marketplace for natural hair products and accessories
Access online marketing tools to help your business grow
Utilize our website services, social media promotions, workshops, featured articles and more to grow your business online.
Join a positive community based on loving your natural hair
Be a part of a community that shares in a common goal of healthy natural hair care and confidence in rocking your natural hair texture.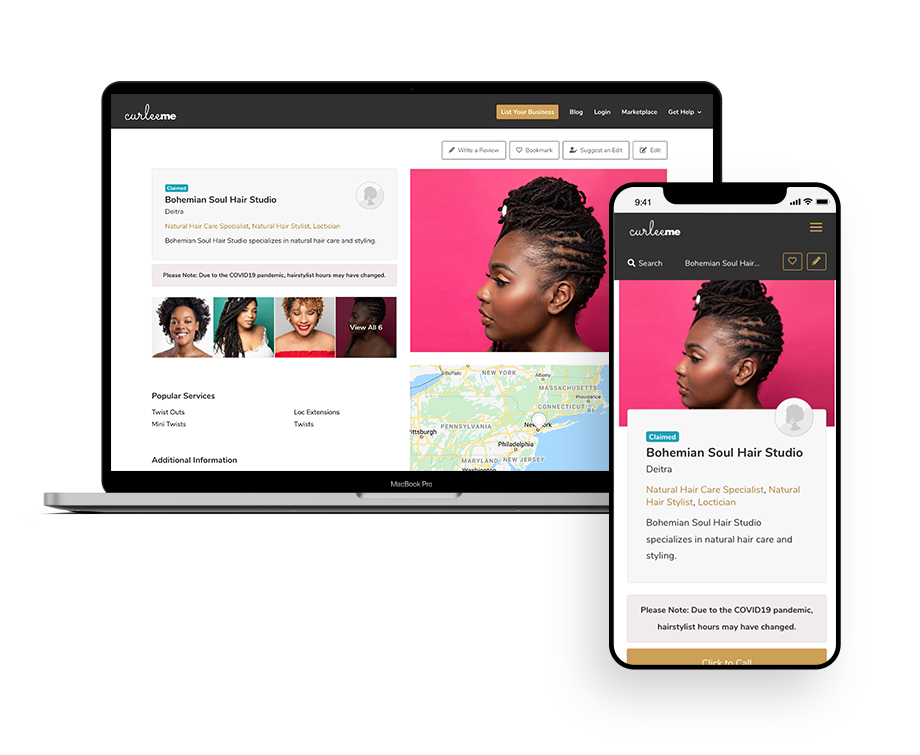 Frequently Asked Questions
What type of hair stylists can we find on CurleeMe?
We serve hair stylists that love to take care of kinky, coily and curly hair types. Specialties found here are natural hair care specialists for adults and children, braiders, locticians, extension specialists, and colorists.
How does CurleeMe pricing work?
Get a CurleeMe listing for Free with our entry listing or get the benefits of our PRO membership at $59/year.
What forms of payment accepted?
We accept all major credit card payments.
What if I have more than one salon?
No problem, you have the option of adding multiple listings at 10/year for each addtional listing
What is your refund policy?
We don't offer refunds.
How do I sell on the marketplace?
If you sell products for kinky, coily or curly hair and would like to sell in the marketplace, request to sell here.
Am I able to edit my own profile?
Absolutely yes. You will have access to all features based on your plan so you will be able to edit any business related information on your profile.
When I sign up for my business, what happens?
We will review your submission. The review process will take up to 24 hours.
Can I use CurleeMe outside the US?
CurleeMe is currently dedicated to natural hair stylists in the US and Canada but we plan on expanding soon.
Can clients book appointments with me?
Yes, with our Lifetime Membership clients can book appointments with you directly through our platform or your 3rd party appointment link. We've partnered with Setmore, an online booking system to allow your clients to book right from your profile page! All you need is a free Setmore account.
Set up a profile and connect with clients today