Hi, I'm Kara Sage!
I would describe my hair as coily voluminous. I've noticed that my hair has different textures in certain sections making it hard to identify myself with one hair type.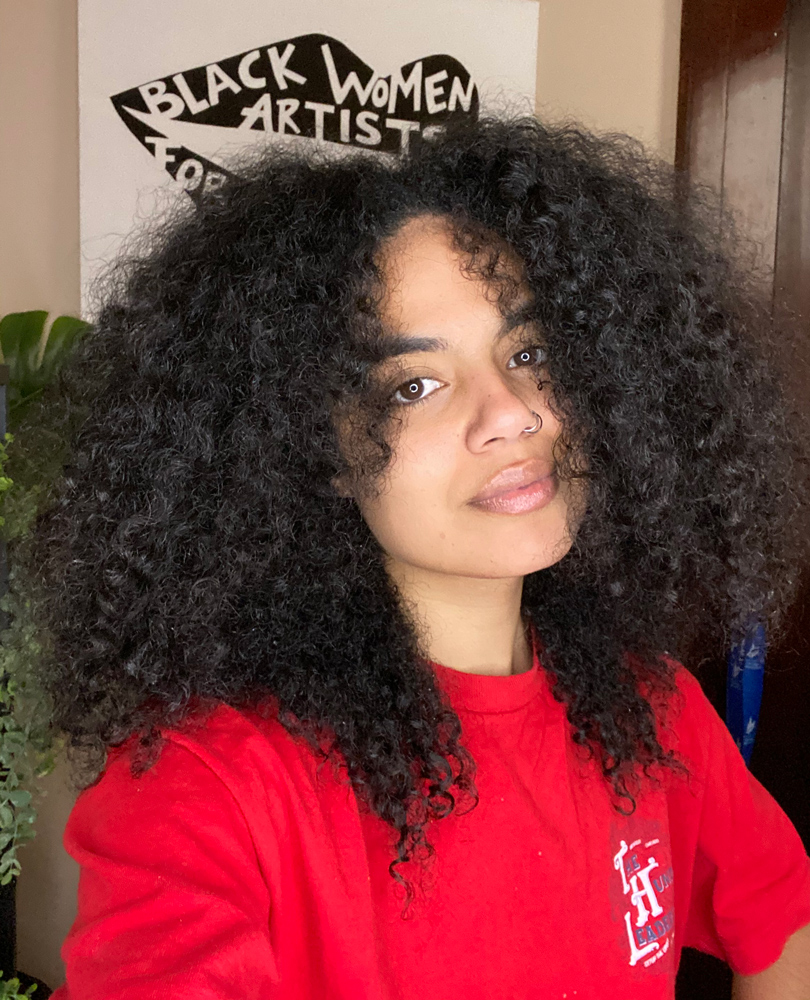 The Journey
Phase one of my journey started like many others, it was the "I hate my hair" and "I don't know what to do with my hair" phase. Growing up I had this overwhelming desire to be liked, more specifically to fit in. I didn't want to be different, being different made you a target for ridicule from peers. I should also probably mention that I grew up in a predominately white suburb where I would eventually only have one black friend.
When I bring up my natural hair journey I can't start at the moment I decided to start slowly and steadily cut off my relaxer in October of 2017 because it's so much more than that. I realized I had developed this hate for the color of my skin, eyes and hair early on. I grew up with my white mother in a white suburban community. It was rare that I saw anyone that looked like me in school, on my sports teams and in the community. I loathed the idea that I didn't look exactly like, or even a little bit like my mother. Or anyone.
I felt like I didn't belong at a young age, not fully understanding why I looked so different from everyone else. In middle school the last thing you want is to be different in any way, that makes you a target for ridicule. After much consideration, I decided that the most reasonable thing I could change was my hair. After all, no one, including myself really knew how to manage it or style it. Don't get me wrong, my mom and aunt made a great effort to try to do my hair in ways that I would like, but nothing worked. In 2007, I saw the movie Princess Diaries and if you're familiar with that movie you know that Mia went from having curly "bushy" hair (at least that's what they called it) to straight silky hair. That's when I realized that it was actually possible to go from curly hair to straight hair, so I begged my mother relentlessly to straighten my hair until one day she finally said yes. She made me an appointment at the local JC Penny with 1 of the 2 black hair stylists there. When I saw my hair straight for the first time I cried tears of joy. My joy quickly turned to fear- what were all the kids at school going to say? I thought it couldn't possibly be worse than what they said about my curly hair. I was willing to take the risk. For some time it paid off, I got lots of compliments and all the attention I wanted.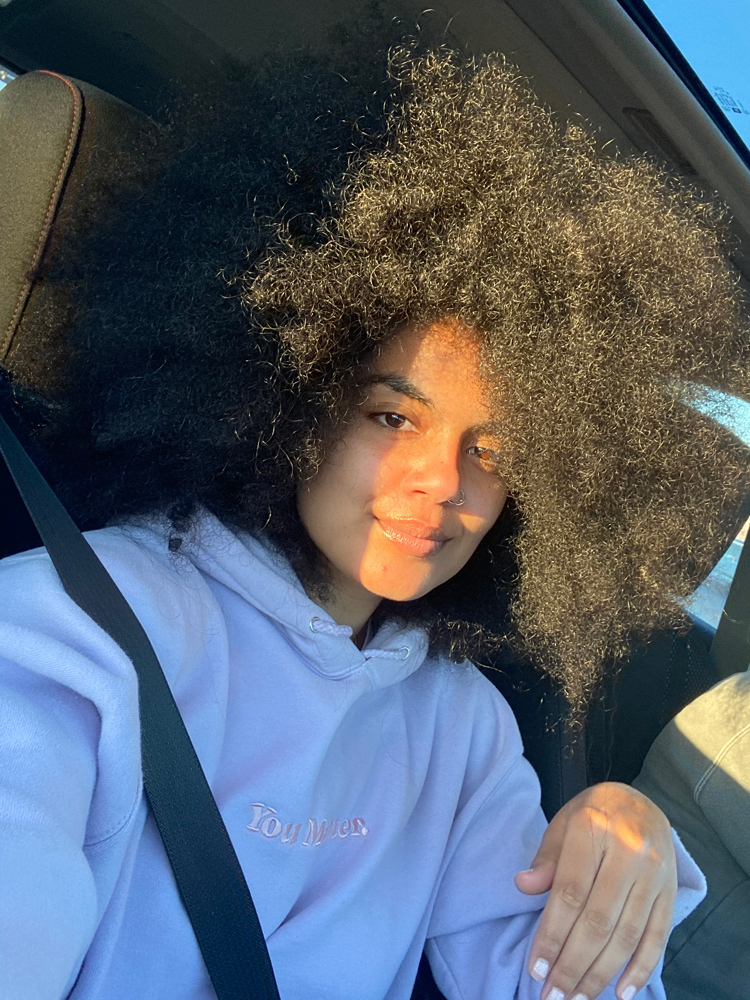 The Relaxer Phase
Ah I will never forget the smell of burning hair. I was 12 when I got my first relaxer. From that point forward, I would get a relaxer every 6-8 weeks for the next 10 years. The main reason was because I wanted to fit in with the other kids in school- I mean it was the 2000s everyone had bone straight hair that was thing. But the other reason was that I truly didn't know how to take care of my hair or style it for that matter. There wasn't anyone around to show us.
I didn't like the idea that I had to rely on someone to feel pretty. I didn't like the idea that I had to spend an entire day off in the salon. Quietly wondering to myself, "Could this be the reason my hair isn't growing?" I was also becoming more aware of the overall health of my hair. It was all bad- dry, limp, brittle all that. On top of all that, it didn't even look that smooth for long. Edges acting up constantly breaking and frizzing up. I was tired. I decided that I was going to start over. I was going to grow out the relaxer just to see what I was working with. Initially, the plan was to grow out the relaxer until my hair was long enough, then relax again. I still had this vision of having really long straight hair. I had been wearing clip in extensions for years by now.
The Transition
I'm not exactly sure when my last relaxer was to be honest. But I do know July 2017 is when I started to see new growth. The ends of my hair were struggling, but I wasn't ready yet to cut them off just yet. I was so nervous about what my hair was going to look like. I mean it had been over 10 years since I had even seen it. I started trying some natural hair techniques, all of which wouldn't go exactly as planned. In October of 2017, I finally decided that my hair was long enough to cut the relaxed ends off. Sometimes I think back and wish I started from scratch and shaved my head, but then I realize my journey went exactly how it needed to go to bring me to where I am today. Product wise, I was really into the Olive Oil Eco Styler. Lots of successful and failed wash n gos— it was difficult for me to get an actual curl pattern I liked. I was predominantly using the racking method to apply products. At this time I didn't know about the wonders of two-strand twisting. I was spending a lot of time trying to simply learn how to take care of my hair, I was watching lots of how to retain length hair videos and curly girl routine videos.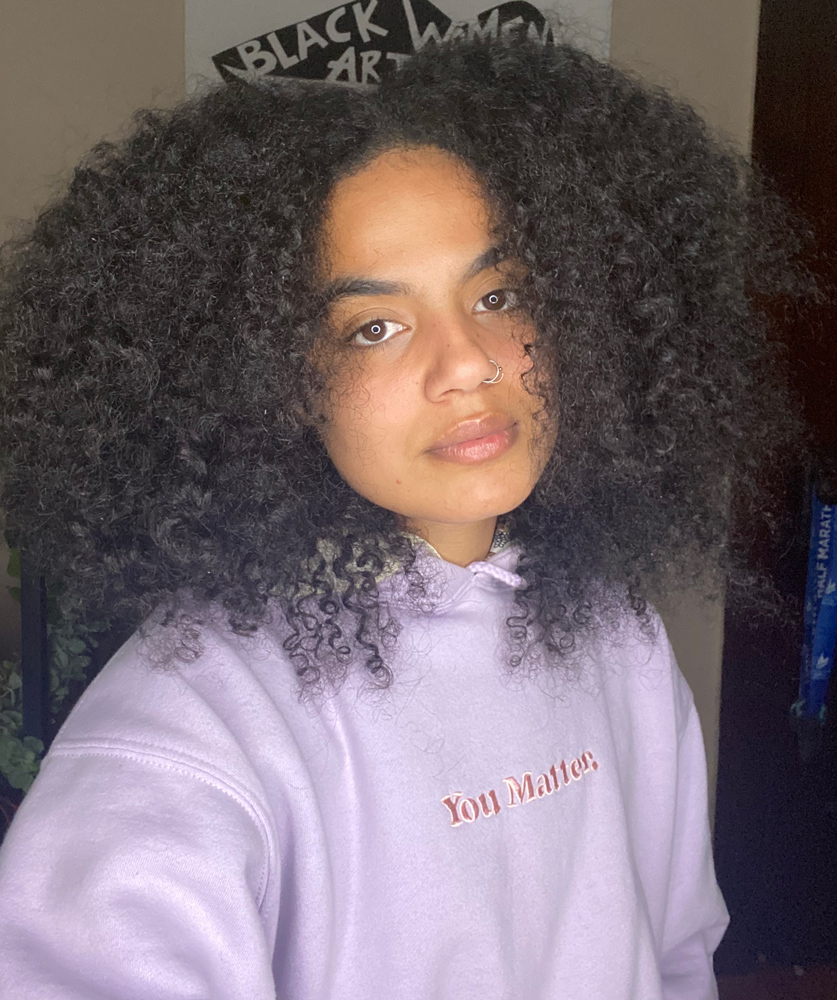 Developing My Curly Girl Routine
By December of 2017 I really started to research how to take care of my hair. I was on YouTube day and night looking at curly tutorials. I discovered Chellis Curls, Natural85 and As I am, which would later become one of my favorite and most used hair care brands. I was sleeping with a silk bonnet on, using a silk pillowcase, and starting to deep condition weekly. I started to try new things— I messed around with wigs for the first time. I loved watching my curls grow. It was exciting to try new things and see what worked for me. I was experiencing a lot of highs and lows.
Like many other naturals, I went through a lot of learning about myself throughout my journey. I can happily and confidently say that I love my hair. I hope that by telling my story, someone else can relate and know that they aren't alone. Because for so much of my journey I felt like I was alone.
Connect with Kara on instagram @naturallysage_
Recommended Products