Today, I would like to talk about protective styles. We all know that sometimes we need to protect our hair for various reasons. It could be due to a change in the weather or simply because we just feel like it, but the thing is, sometimes we just don't know what we want to do. Even though we know there are options out there, at times, we just can't think of anything for some reason. I bet you know what I'm talking about. Yeah, those times when you're scrolling through instagram for hairstyles and get a flood of options that overwhelm you and end up leaving you still not knowing what to do. Well, due to our random inadequacy to come up with an idea at those times, I put together a list of protective hairstyles to jog our memories and give us the] "Aha" moment. So let's get into it.
Individual Braids with Extensions
First on the list is braids! This is the first thing that usually comes to mind when we think of a protective hairstyle. They instantly change your look, they last long and they are common. While braids are great, always make sure you're not getting a hairstyle that would pull out your edges or give you bald spots due to braid tightness or simply using cheap braiding hair.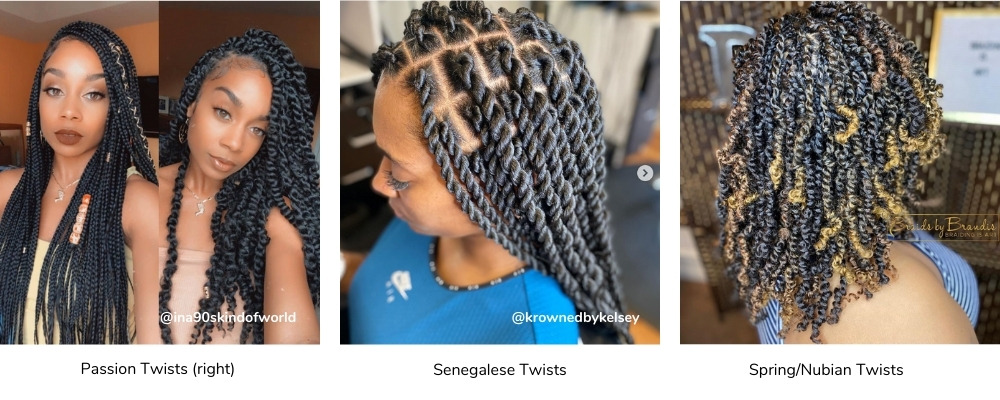 There are many types of braids. Even though there are a variety of individual braids we can put them in 2 large categories, braids with 2 strands (twists) and braids with 3 strands. Some examples of twists are senegalese twists, spring twists or Nubian twists, passion twists, havana twists, marley twists and others.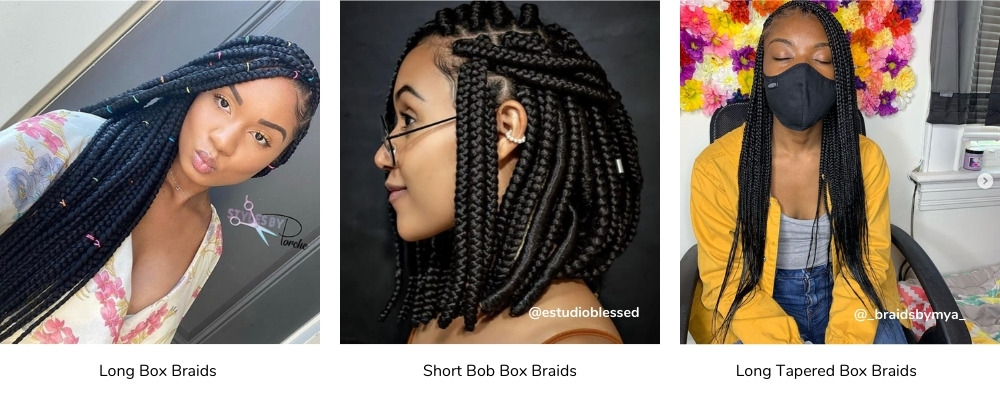 Some examples of braids with 3 strands are box braids, tree braids, micro braids, chunky braids, and goddess braids. Either of these types of braids can be long, short or the bob type style.
Braids without Extensions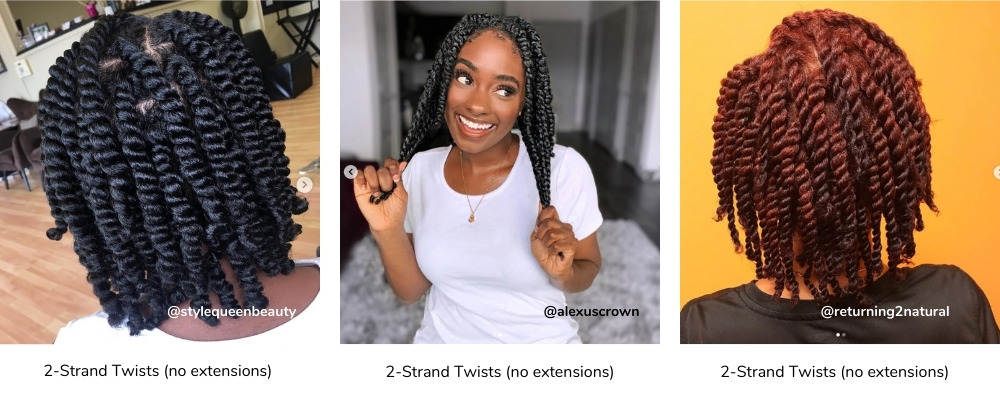 The look of braids without extensions will solely be based on your hair type, hair length and simply what you're comfortable with. Try doing mini twists, chunky twists or a size in between. If you want to do 3 strand braids, go right ahead but I will say from my personal experience to stick with a medium to chunky size as it's easy to get tangles with smaller sizes during takedown. It would really suck if your beautiful hair gets tangled up so badly that you have to reach for the scissors…yikes!
Cornrows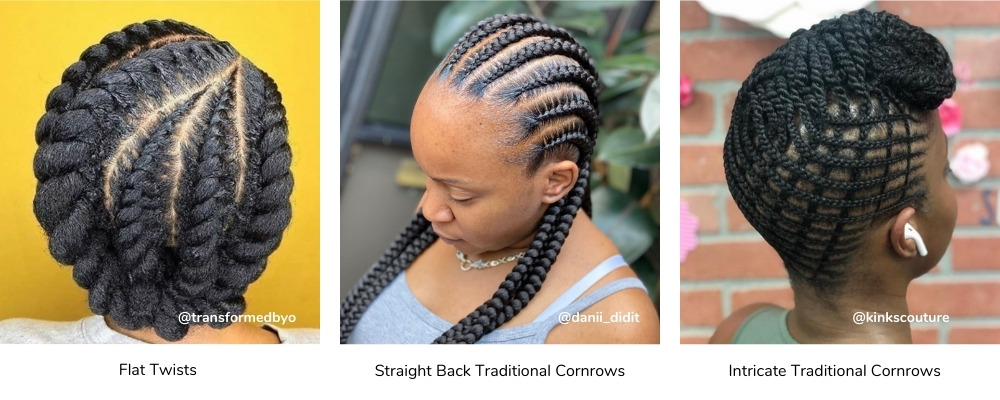 Cornrows are great, right? They are also a type of braid, but they are flat against to your head unlike regular braids. Even though they don't last as long as the ones mentioned above, they are quick to get installed and give your hair some chill time. Choose from traditional cornrows (dutch braids), inside cornrows (french braids), flat twists or stitch braids. They can be straight backs, updos or even more intricate styles to give you some freedom and some additional character!
Crochet Braids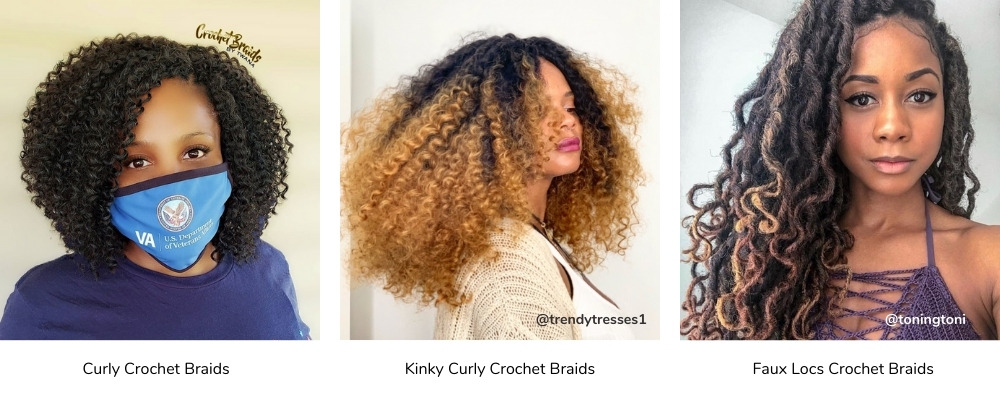 This one is fun and super helpful to your hair because your hair is cornrowed underneath the extensions, giving your hair a lot of protection and less manipulation. The cornrows don't have to be a work of art either so the braiding technique can be solely focused on allowing your hair to breathe easily and make it easier to wash your scalp on wash days. There are so many looks of crochet braids out there; they can look like braids, twists, faux locs (Boholocs are my favorite) and even kinky, curly or wavy hair. To give a different look or to get the best of both worlds, decide to do individual braids on the first few front lines and crochet the rest.
Weaves
Weaves are also great as a protective style especially when it's a full head weave as compared to a partial weave because all your hair is tucked in just as with crochet braids. Weaves are purchased in bundles and then sown into the hair cornrows. Another word to the wise here; not all weaves are alike. Make sure you're getting your weave done by a specialist who has a goal of protecting your hair. While creating the cornrows as the base of the weave, some hairstylists tend to braid too tight on the edges or all over for that matter. This can cause damage to your edges and lead to bald spots. For example, when cornrows are done in a circular fashion and braided too tight, the scalp can stretch so much it leaves a "bubble of scalp" at the top of your head. Seriously I've seen it first hand and it's a no-no. Cornrows straight back will work just as fine and give you the same look. Use a good closure to seal it off and rock the new hairdo for about a month or a month and a half to give your real hair the treatment it needs. With the tons of weaving hair types out there, you can do curly weaves, straight weaves, wavy weaves and more.
Faux Locs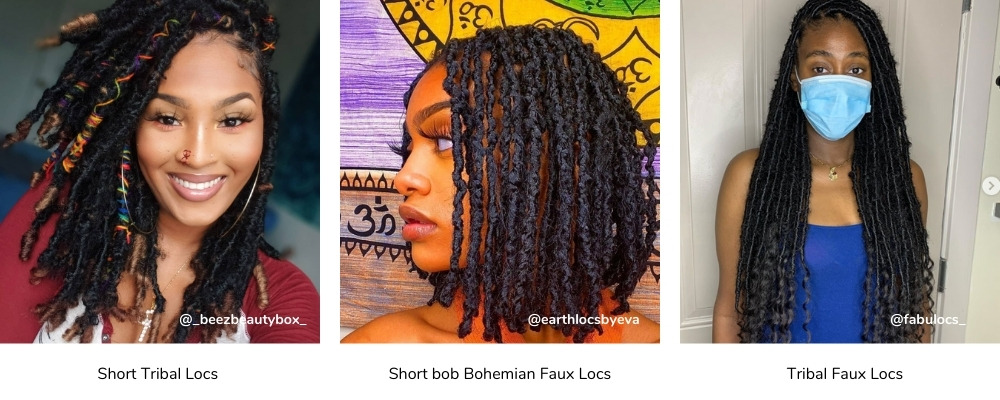 If you love the loc look but you don't want to commit to actual locs try faux locs. Typically, the hair is braided and the locs are created by wrapping the braiding hair around it. There are so many different types of hair out there for faux locs, so take your pick to give yourself either the clean refined look or the more natural look. Some of the faux loc styles out there include messy locs, distressed locs, goddess locs, bob locs, textured tribal locs, and more. Yarn braids are also similar to faux locs so we will lump them in here. The only difference is the material used, which is yarn.
Wig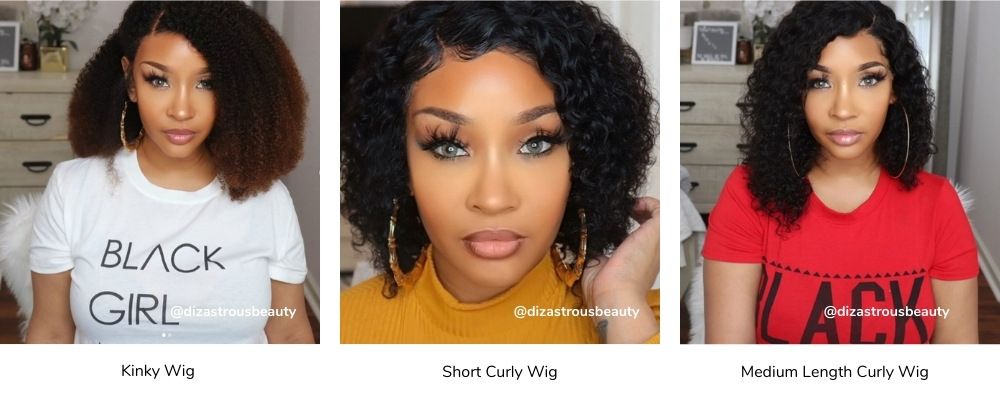 This one is a bit different but it's a quick one and you might not have even thought about yet. Invest in some good wigs. Simply put in some cornrows and plop on a wig. Since we're all about curls over here at CurleeMe, we suggest looking into getting some cute kinky, coily or curly wigs that are either your hair length or try something different. This is your time to get a big or small afro. Try wigs with color highlights to give yourself a different look. We love wigs from hergivenhair.com and they carry all different types including full wigs and partial wigs.
Bantu Knots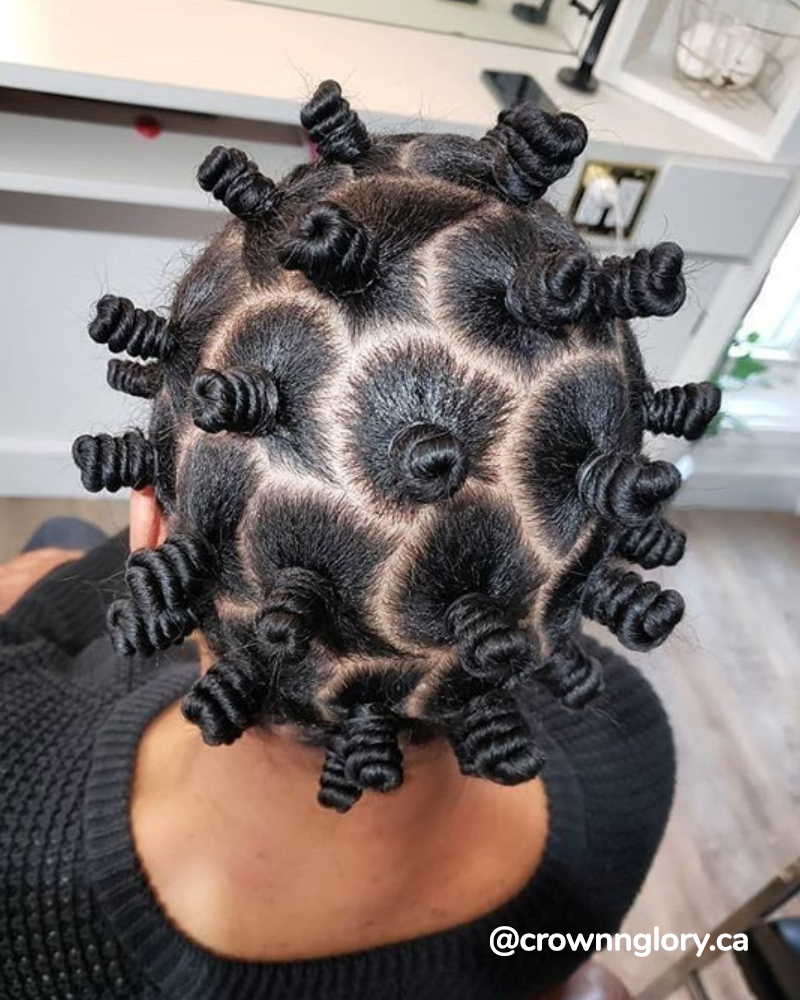 If you're looking for a one to two week option for a protective hairstyle, bantu knots could be an option for you. This style is unique and just flat out cute. The cool thing about bantu knots is when it's taken down, it gives another curly effect called "bantu knot out" so you don't have to think about another hairstyle right away when once it's run its course.
Locs
Looking for a more longer/permanent solution. Loc it up! Even though locs are a type of natural hair style or a form of expression, when you think about it, it's also a type of protective style. Your hair is left alone and you're able to take care of it and give it the treatment it needs. If you're looking to retain length, locs are your friend as well. So just saying, if you want a more permanent solution, look into locs 🙂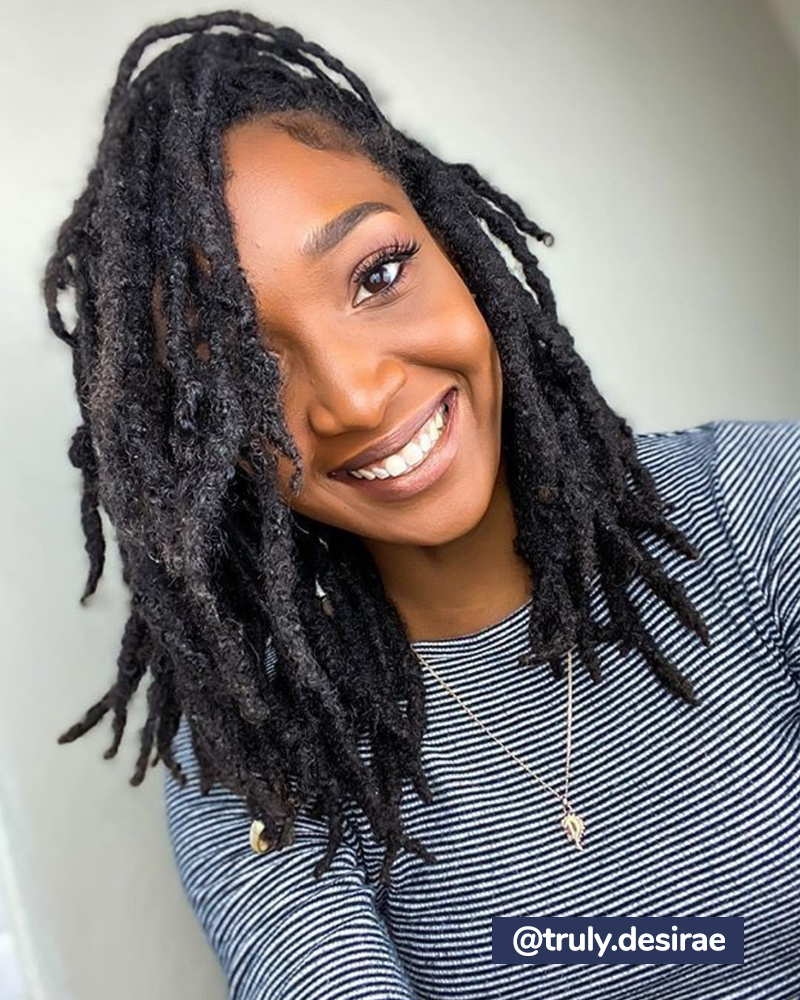 To cap this off, if you're looking to change up your look while protecting your hair in the process, try out one of the ideas above.
If you're looking for a hairstylist that can bring your idea to life, check out our natural hair stylist directory. We have hair stylists near you that can hook you up.
Anthea Ancalade
Anthea is the creator and founder of CurleeMe. Her love for natural hair care has led her through this journey. When she's not running CurleeMe, she's designing websites or spending time with her family.