If you're an independent hairstylist or salon owner, you know how hectic your schedule can get. A booking system can help with much more than just organizing your calendar. It can help with the overall running of your business and some can even help with gaining new clients.
If you're in the process of choosing a booking system or considering switching, we have listed 5 popular booking systems that you can easily link to your CurleeMe stylist profile.
Ideal for those on a budget.
Get started for free! The free basic plan gives hair salon owners or independent hairstylist's all the features to be able to efficiently book clients. Setmore provides 24/7 online booking services, with real-time updates to your calendar, to allow for seamless integration into your hair business.
The free Setmore plan includes:
Unlimited appointments
Email reminders
Custom Booking Page with unique URL
Payments with Square
Teleport video meetings
Social media integrations
If you're looking for additional features like SMS reminders, two-way calendars, and more payment options, they have several affordable plans available.
We've partnered with Setmore, to allow your clients to book right from your CurleeMe stylist profile page! The appointment booking software integrates with your stylist profile, making it easier than ever to get booked on CurleeMe.
All you need is a free Setmore account to get started, then you can embed your booking calendar into your CurleeMe page. Once set up, people will be able to search for your services and instantly book an appointment with you. To set up your FREE account, click here.
Ideal for hairstylists who want a beautifully designed appointment booking system.
Gloss Genius is all about the client's experience. With an aesthetically pleasing client interface and an app to use on the go, this is a popular choice for salon owners and independent stylists.
Gloss Genius's main features include:
Automated appointment scheduling
Same business day payments
Client management
Built-in marketing
Gloss Genius claims to increase your booking rate by 35% by encouraging clients to share their hairstylists on their socials. Word of mouth from happy customers is one of the best forms of advertising for growth and can quickly skyrocket your hair business.
They also send out messages to customers who haven't rebooked, reminding them they are due a visit. Both of these automated actions will help retain your current clientele whilst bringing in new customers, the perfect combination for a fully booked hairstylist.
Not only will you get automated actions that will help grow your hair business, but you will also receive smart analytics with helpful business insights and figures to help boost your business further.
Ideal for those who want to grow their clientele.
StyleSeat is a premier web-based marketplace where independent beauty, wellness, and grooming professionals get the chance to grow their clientele by being discovered by potential clients in their respective locations.
StyleSeat's main features include:
Online booking
Client management, including touch-free payments and recurring appointments
Marketing
Reporting
A feature to showcase work
StyleSeat enables clients to quickly discover and book services by showing a hairstylist's availability, perfect for stylists who have limited time slots but want to maximize revenue. Moreover, the platform's analytics function discovers professionals' most popular slot timings and converts them to higher earning spots seamlessly.
Ideal for salons who want the everyday admin taken care of.
Booksy is great for salon owners who need a booking system that takes complete control over the day-to-day operations of their business.
With the use of artificial intelligence, Booksy can make informed decisions about the timings of appointments. Based on previous visits and customer requirements, the artificial intelligence used within the app predicts how long each session will be, making the management of appointments a breeze.
Booksy's main features include:
Mobile client app
Calendar management
Booking dashboard
Point of sale system
Mobile staff app
Staff commission management
Bulk emailing/SMS messaging tool
Role-based access
Reporting
Appointment reminders & notifications
Booksy provides advanced solutions to manage and grow your business by streamlining your calendar, promoting your business, and taking payments with ease.
Ideal for busy salons that need everything in one place.
If you're looking for a system that can do it all, look no further than Vagaro. It handles all your management needs as well as automating promotional tasks for your hair business.
Vagaro's main features include:
Point of sale system
ECommerce
Payroll
Automated online appointment scheduling
Email/SMS marketing
Credit card processing
Subscription payments
Video streaming
Advanced business reporting
The point of sale feature is handy for hair businesses that want to sell gift cards, coupons, and other packages. Their advanced point of sale system allows customers to redeem coupons and gift cards through the web or mobile application.
Things to Consider When Choosing a Booking System for Your Salon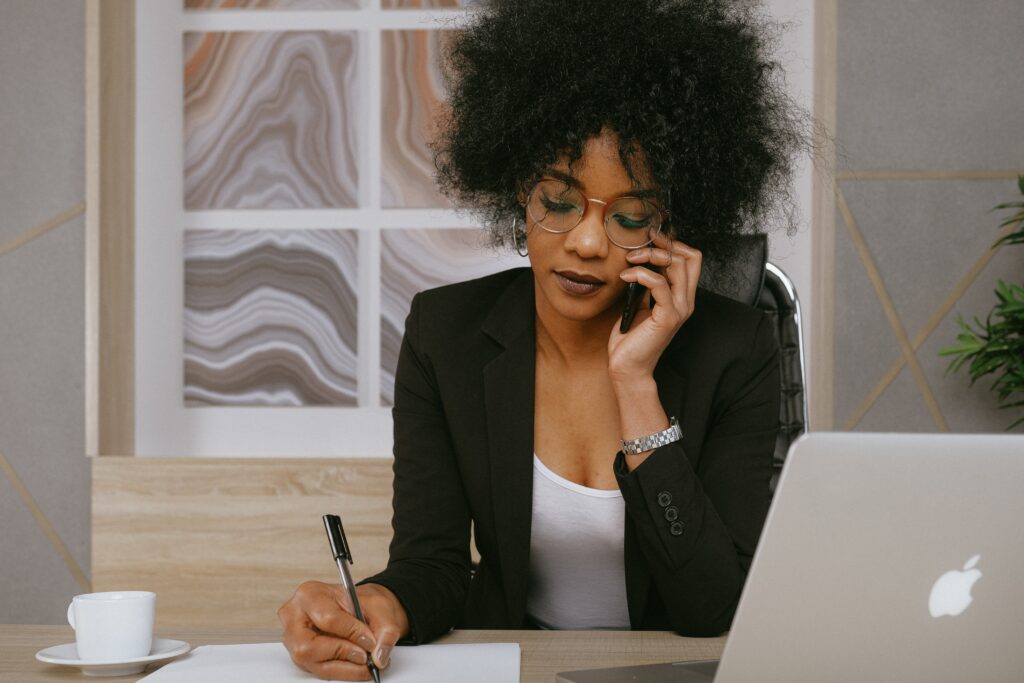 With so many booking systems out there, it can be a daunting task searching for the right one, here are 8 points to take into consideration:
1. What features and integrations are most important to your hair business.
2. Decide your budget and compare prices.
3. Ensure there is customer and tech support.
4. What do the reviews say?
5. Test run with a free trial version.
6. Check that the software is user-friendly for both staff and clients.
7. Security should be a high priority, how does it keep your businesses and your customer's data safe?
8. Can you integrate the booking software into your website?
Linking your CurleeMe stylist profile to your booking system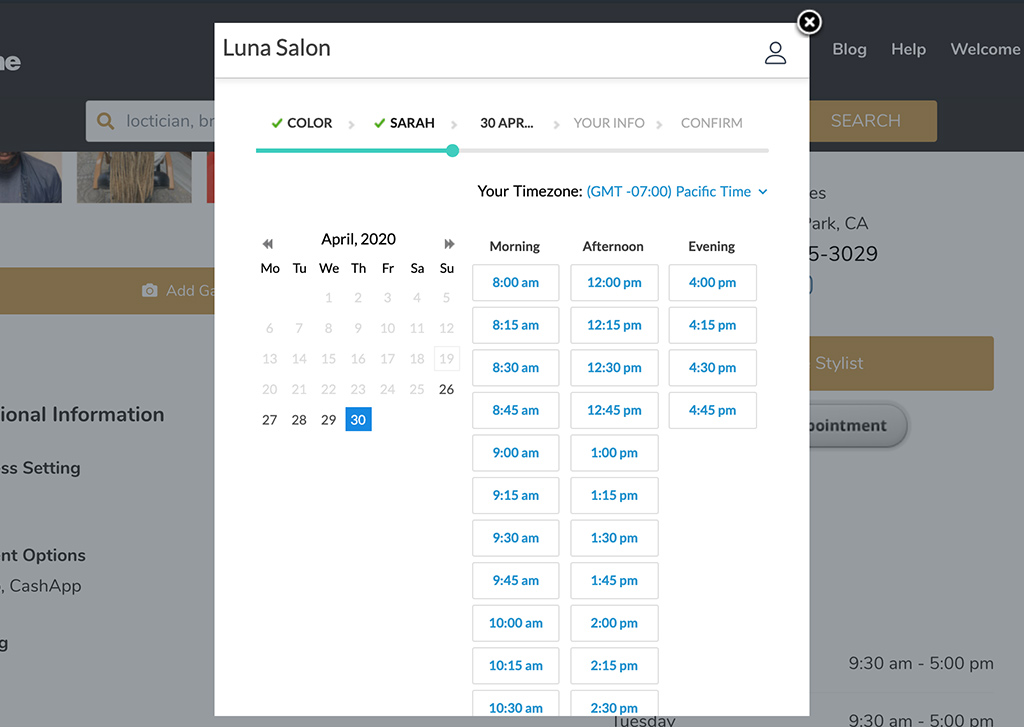 While most directories simply point customers in your direction, CurleeMe is designed with natural hair stylists in mind. When you create a Pro CurleeMe profile, it allows clients to book appointments with you directly through our platform, or your third-party appointment link.
By linking your CurleeMe stylist profile with your booking system, you're giving potential clients an easier way to find you on a unique directory that's catered to kinky, coily, and curly hair.
A booking system, in general, allows you to organize your workday and manage your business efficiently. When choosing a booking system, make sure it provides all the features you need in order for your hair business to thrive.
Your potential clients are searching for your services every day on CurleeMe, so make your profile ready to accept appointments. Alternatively, if you just found out about CurleeMe, you can get started here.