Hairstylists, you work hard! You spend long hours on your feet transforming clients' hair, whilst trying to run your business. If you feel like you're trying to do it all, here are some digital and physical tools that can make your life easier and help you get through those long working days more smoothly.
Digital tools
1. Canva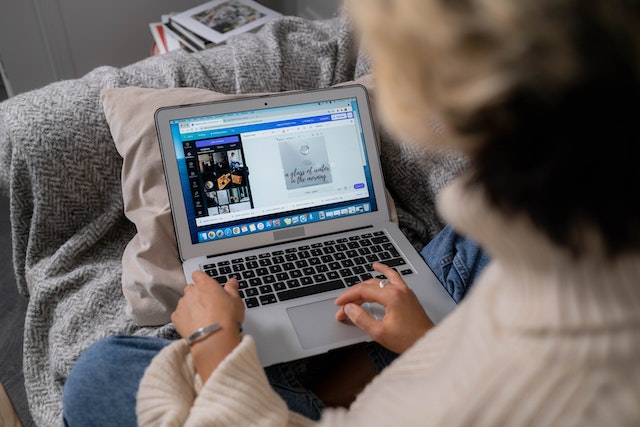 We love Canva because it makes graphic design quick and easy. Canva is a free tool that helps people with no design experience create professional designs. With Canva, you can quickly create designs for posters, flyers, social media posts, and more. With a range of templates to choose from you can customize each template with your photos, text and color scheme.

You don't have to worry about learning how to use Photoshop or paying hundreds of dollars for graphic designers anymore! Click here to set up your free account.
2. Website
Having a functional website can help you gain clients! If potential clients can see your prices, availability, examples of work, contact information, location, and booking system, all in one place, you are more likely to get clients than someone who doesn't have all this information in one place.
A hairstylist's website should have all the features described above as well as some information about the hairstylist and the salon. Your website can also be used as a marketing tool for promotions and special offers.
At CurleeMe, we don't only offer a platform for finding clients specifically with kinky, coily and curly hair, we also offer done-for-you websites for busy hair professionals.
We can help grow your business by creating and maintaining your website to help enhance your digital presence. Our website service includes a responsive support team for all your website needs and a calendar function that enables clients to view your availability and easily book an appointment online. To inquire about our website services click here.
3. Booking System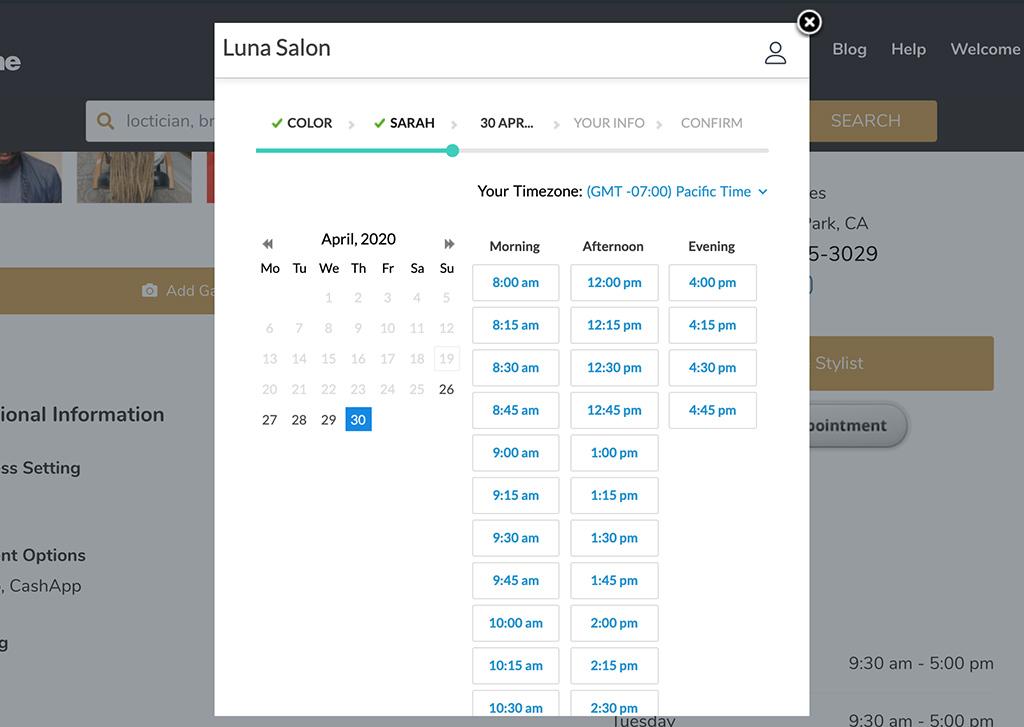 Alongside equipment, furnishings and products, software is a hugely important consideration for hairstylists. An easy-to-use online booking system, in particular, will appeal to your clients and streamline your appointment process.
With customers able to view your available slots and book without having to contact you, installing booking software can free up precious time that would be otherwise spent answering the phone or messages.
With so many booking systems out there, it can be a daunting task searching for the right one, here are 8 points to take into consideration:
1. What features and integrations are most important to your hair business. Some important ones to consider are:
Allows clients to pick a time/date for their appointment
Allows clients to book appointments without talking to anyone
Allows clients to see appointment availability/time
Allows clients to cancel their appointment
Allows stylists to see who booked, when they booked, and if they have canceled
2. Decide your budget and compare prices.
3. Ensure there is customer and tech support.
4. What do the reviews say?
5. Test run with a free trial version.
6. Check that the software is user-friendly for both staff and clients.
7. Security should be a high priority, how does it keep your businesses and your customer's data safe?
8. Can you integrate the booking software into your website?
We've listed a range of popular booking systems that you can easily link your CurleeMe profile to here.
4. Google My Business
This is a really important one! Google my business is a way for salons or hairstylists to create a verified listing on Google and promote their services locally. This listing includes information about your salon like the hours, location, and what services you offer.
It's a tool which enables business owners to manage how they appear online across Google and make their business stand out.
Since a large percentage of the population is using Google, it means a huge audience can view and access your profile. The more visible you are, or the more often your business shows up in search results, the better the chances are of drawing people's attention to you. Google my business also allows you to appear on maps, which is super helpful!
Set up your free Google my business here.
5. CurleeMe Profile
If you're a new hairstylist here on CurleeMe, welcome to the community! While most directories simply point customers in your direction, CurleeMe is designed with you in mind.
Here, you can take full advantage of the CurleeMe platform to grow your business and make a name for yourself in the natural hair community. Our goal is to make it easier to find hairstylists that specialize via location and find the resources people need for a healthy hair journey.
Physical Tools
6. Tripod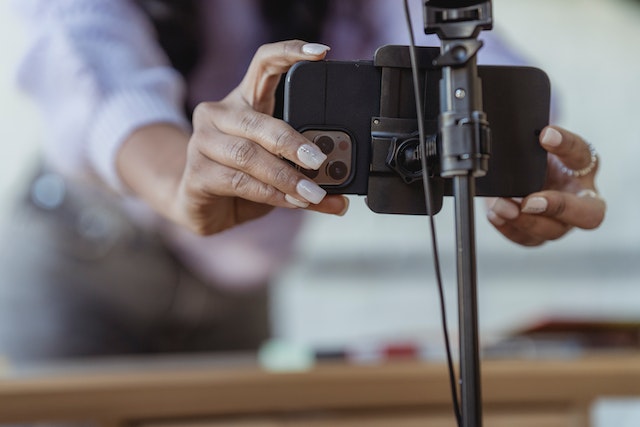 A tripod is a really useful tool for hairstylists as you can easily film yourself working your hair magic. A tripod will allow you to get better shots of yourself and your work. These pictures and videos can be used for social media, or tutorials for clients! This can be really helpful for new clients who want to know exactly how to style their hair at home.
7. Phone camera remote
Another accessory that often comes with a tripod is a phone camera remote. These are ideal if you need your hands available or want to shoot at an awkward angle.
Want to learn how to take better quality photos?
Click here
8. A portable light
Lighting is everything! Good lighting can make your photos and videos look 10 times better. If your salon doesn't have enough natural light, this can be a huge inconvenience when you're wanting to take pictures and videos of your work.
Having portable lights that you can move to where you need them will make things even easier. These lights don't have to be super expensive. You can find them at places like Target, Walmart, or Amazon.
If you haven't got a lot of room for a standing ring light you can buy rechargeable lights that don't require plugs and just attach to the top of your phone! These are particularly useful if you need to move around or you just don't have the space for a big ring light.
9. A pop-up backdrop
If you haven't got a photogenic background these backdrop stands can elevate your pictures and make them look super professional! A pop-up backdrop can be put up and taken down quickly, which is great for busy salons or if you're on the move.
The tools listed in this article are just a few of the digital tools and accessories you can use to improve your business and streamline your day-to-day workflow. As you use each tool, you can discover which ones work best for you and your business.