As a PRO Member, you're able to add a 3rd party appointment booking to your profile page.
Appointment booking can be added in 2 different ways
URL (link to booking page)
Embed Code (button) with Setmore (A FREE booking platform)
URL
1. To add an appointment url, simply head over to your dashboard and click on "edit" to edit your profile.
2. Then in the go to "Appointment Booking".
3. Select "URL" and insert the link to your 3rd party appointment booking page.
Embed Code Button
Setmore is our integrated booking system. To set it up, create your free Setmore account first. Setmore is a simple to use online scheduling software catered to health and beauty businesses.
Once you're all set up with a Setmore account head over to your account page and follow the steps below to create a booking button.
1. Navigate to Apps & Integrations, then scroll down to Integrations and click the Booking Widget card.
2. You'll be presented with the Booking Widget form. In Step 1, make sure that the radio button is activated for "Place my button…"
3. In Step 2, either option works, so choose your preferred method for opening the Booking Page.
4. Under Step 3, choose "I'll embed the code myself."
5. Copy the code in Step 4, head over to your dashboard and click on "edit" to edit your profile.
6. Then in the business listings tab go to "Appointments".
7. Click on "Embed (Setmore Account Only) and paste the Setmore code in the text box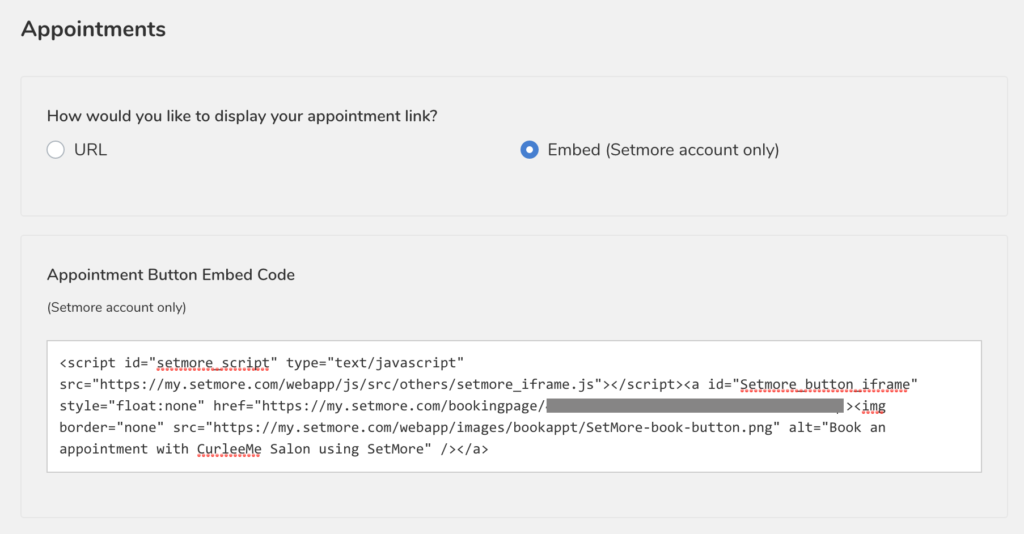 8. Click on save changes and you're done! Your button should now be ready to accept appointments on your profile page.