Today, we're featuring Athena Hill, a talented curl & color specialist in Pinole, CA on our hairstylist directory!
Here are a few questions we asked Athena to learn more about her and what inspires her!
Tell us about you and how you got started as a hairstylist
Growing up in the San Francisco, Bay Area, and being of Polynesian and Central American descent I grew up with friends and family with curls of all kinds. I started as a braider at the age of 11 and by the time I was in beauty school at 18, I had a strong braiding clientele and worked with every texture of hair from straight to tight coils. I have cared for curls of all kinds, more specifically tight coils, for 20 years. I made the official switch to solely focusing on tighter curls around 2016. I was tired of seeing women with tighter curls be mistreated and told they couldn't achieve their curl goals simply because the stylist didn't know how to properly care for them. I wanted to create an environment that would allow women of all shapes, tones, and curl patterns to be welcomed and heard. My goal is to assist women and young girls with curls to develop confidence and know they are beautiful by providing the education and tools needed to see that your curls and you are not difficult, too much, or any other negative comment you've been made to feel. My passion is to provide you with the understanding of how to use the tools, Including products, hands, brushes, etc, and create a faster, simpler, and more enjoyable curl care routine.
What do you love the most about kinky, coily and curly hair?
It's versatility and strength! There is so much fun that can be had with curls! Countless ways to wear your them and allow them to add to your every day style! A great quote I heard was that your curls are the crown you never take off. Not sure who the original person was that said it, but I whole heartedly believe in that. Your curls are an accessory to who you are and just like you enjoy changing other aspects of your look, your hairstyle can be work in multiple ways to accentuate your style, and add that little or big pop to make you feel your best.
What's your favorite go-to-hair-regimen you like to share with your clients?
Hair care is simple. Shampoo, condition, and style! The products we choose will vary depending on your end goal.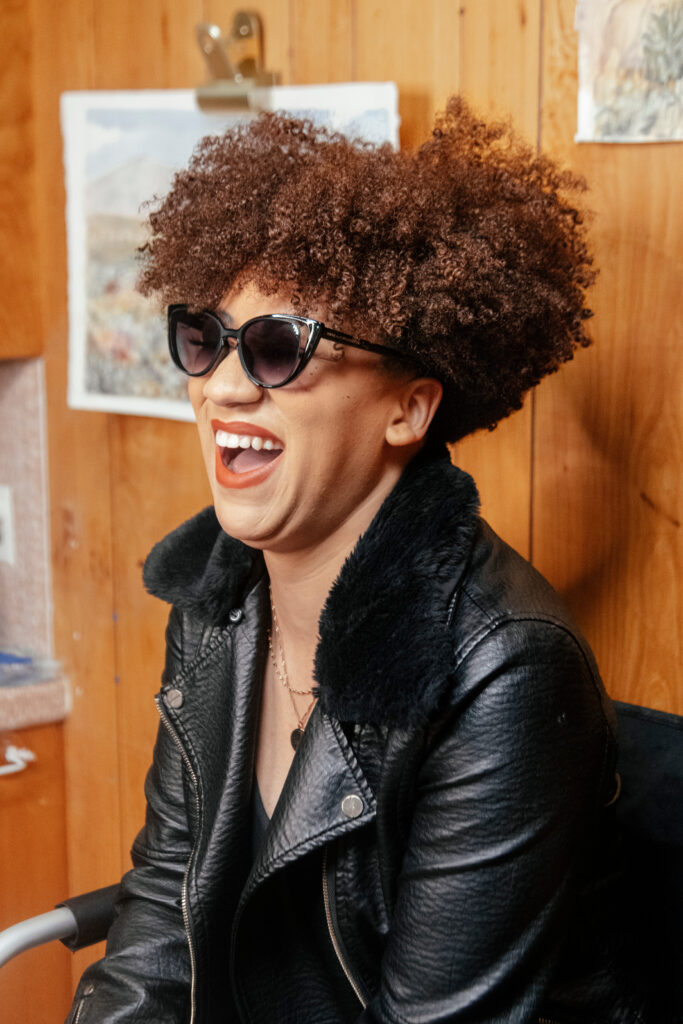 Are there any products you would like to recommend for a healthy hair care routine?
Product recommendations can vary depending on what your desired result is, however, very often I find that I need to recommend a shampoo to add to your current routine. Shampoo and conditioner are the foundation to any style routine, whether you wear it straight or curly. If the foundation is not right, your style won't be and you will either work harder to achieve your look, or work harder to maintain it. Finding a shampoo that can create a clean slate without over stripping your hair will allow everything from the conditioner to the styling products to work more efficiently and allow you to benefit the most from what each product offers.
What do you consider a good hair day?
A good hair day is the day you feel confident with your image and know that you're beautiful. If you feel this way about yourself you could be in sweats, hair pulled back in a bun or glammed out with every curl elaborately coiffed, and in either scenario, because you feel good about you, it's a good hair day. Confidence, in my opinion, is what determines a good hair day, or simply a good day.
What inspires you to do what you do?
What inspires me to do what I do? Great question! Seeing a young girl or grown women who did not know how simple caring for their curls could really be and seeing a new sense of confidence in their beauty because they now know how to do it for themselves. Getting "love notes" from moms whose daughters are excited to try new styles and even are helping mom experiment with new looks because they have an understanding of how to care for their curls. Seeing a woman or young lady who stops to catch her reflection in each mirror or window because they feel they're best! This is what inspires me.
What are some of the challenges or lessons you've faced along the way in your career?
The greatest challenge I faced along the way is that I'm not the best stylist for everyone and as much as I would love to be the person to help every curly haired woman on the planet to feel great about their hair, that is simply unrealistic. The lesson I learned is that sometimes saying no and or giving a client a recommendation to someone that I feel can give them more of what they need is the greatest gift I can give because the goal is that they feel good about their hair. It's not about me, it's about the client and giving them the best and sometimes, as I said before, the best I can give is to recommend them to the person that match their vibe and goals best.
If someone is looking to join the trade, what advice would you give them?
Always remain teachable. It keeps you humble and keeps you hungry. Remaining teachable allows for growth. Mastery is not the period at the end of a sentence, it's the dot, dot, dot…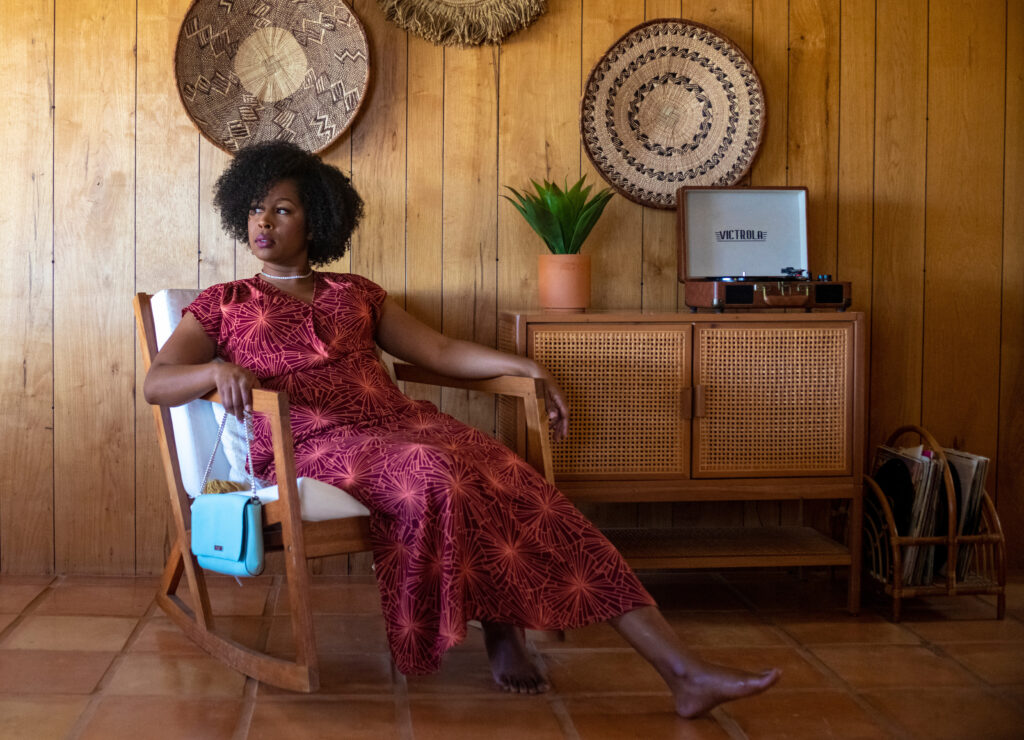 How are you using CurleeMe to grow your business?
I am benefiting from CurleeMe by being connected to a group of likeminded professionals and creatives that want to work with curly hair clients. CurleeMe is an opportunity to reach those that have been looking for a stylist like myself or others that are in this community and hopefully bypass some of the challenges most curly folks face by not being able to find the right stylist for them.
What achievements in your career or life are you most proud of?
There are a few things that stand out that I can say I am most proud of. If I had to pick one thing or a reoccurring theme, it would be that I seek to be better than who I was yesterday. My only competition is the woman in the mirror. Stepping out of my comfort zone to pursue and be a featured artist in fashion and arts show or pursuing teaching classes to curly hair folks and facing the emotional rollercoaster that can happen when striving to achieve higher goals… These are all things that make proud of my journey that has brought me to where I am today, and excited to see where I will grow to be tomorrow.
Do you have a personal motto? Please share.
I have 2…
1. There is freedom waiting for you in the breezes of the sky and you ask, What if I fall? Oh but my darling, what if you fly? – Erin Hanson
2. Beauty begins the moment you decide to be yourself. – Coco Chanel
Any advice you would like to give Curlees out there?
Enjoy the journey and the versatility your curls have to offer! When you are looking for a stylist that can care for your curls, look them up and see who the people on their social media feeds. Do you see anyone that looks like you and your curls? If you don't see curls like yours, understand that even though you like their work, they still may not be the best one for you. They most likely are a great stylist because they caught your attention, however not every artist specializes with every curl. Think of Monet vs Picasso vs Michelangelo. All are great artists, but each one is different and provided something different. Don't be afraid to do a little more homework and find that perfect curl artist for you.
How can we contact you?
Visit our CurleeMe Profile to view our contact information and ways to connect.
What social media channels can one follow you?
Follow us on Facebook, Instagram, and our Curl Academy