Caprisha Daniels
Today, we're featuring Caprisha Daniels, one of our lovely hairstylists in Bakersfield, CA! She specializes in all aspects of natural hair care. She is also a Certified Hair Loss Specialist, a Traveling Loctician, Trichologist, and Sisterlocks Practitioner.
Here are a few questions we asked Caprisha to learn more about her and what inspires her!
---
Tell us about you and how you got started as a hairstylist
I've been in the hair industry for over 10 years now. I started out braiding friends and family at the age of 13 years old. I never imagined making hair a full-time career right away. I actually wanted to become a Traveling Nurse. I'd say about 75 % of my clientele are Traveling Nurses and Medical Professionals.
What do you love the most about kinky, coily and curly hair?
It's uniqueness! There is no other hair like it. The versatility it brings still amazes me with every client I service.
What do you love the most about locs?
I really love starting Locs and seeing the transformation process no matter what method clients choose. Sisterlocks, Loc extensions, omg their all just so beautiful to me.
What's your favorite go-to-hair-regimen you like to share with your clients?
My favorite go to hair regimen I like to share with my clients is "less is always more" The hair loves some TLC and to be put on a schedule, right? Shampoo and conditioner every 2-4 weeks, deep conditioning every 6-8 weeks (please use conditioners on those locs too). Light leave-in conditioners are amazing! Protective styles are great as long as much tension isn't being created. Treat your scalp as well, not just your hair.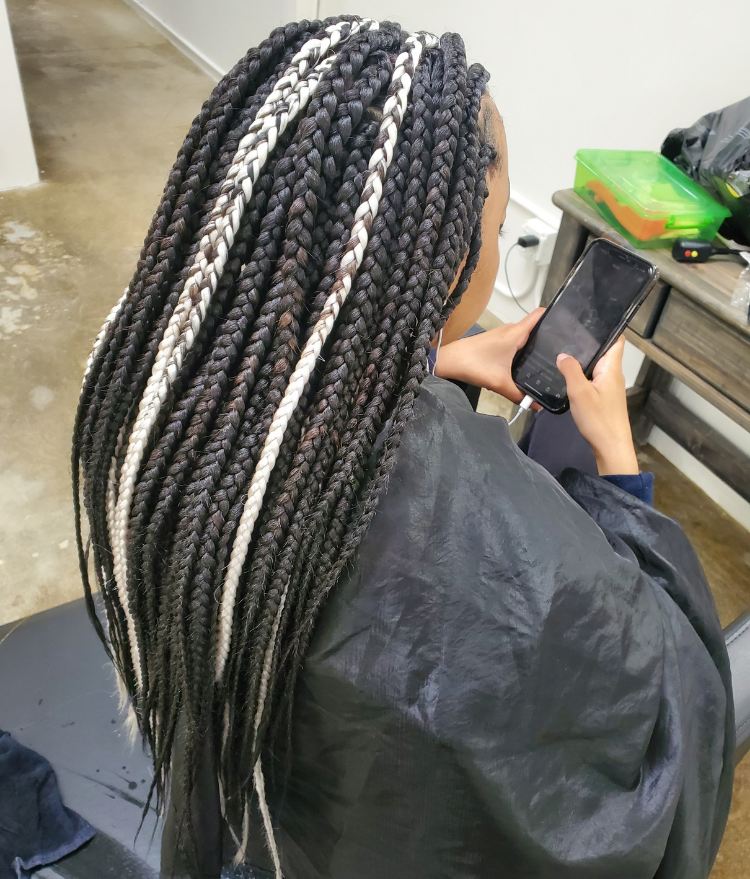 Are there any products you would like to recommend for a healthy hair care routine?
One of my favorite hair products for moisture that I like to use aside from Lovingyournaturalself hair products, Rose Water, Design Essentials Natural hair line, Almond and Avocado
What do you consider a good hair day?
I consider every day to be a good hair day, especially if you still have hair! As a Certified Trichologist, I treat a lot of hair loss clients. It is a very serious issue. Some cases I've seen hair loss due to too much hairstyling methods. I think it all comes down to embracing our crowns and drinking more water lol.
What inspires you to do what you do?
I've always had a passion to help people. I knew I was going to be some type of caregiver, and that's how I truly look at my career. To see clients daily come in from a bad day or maybe just had a long day at work, etc and I can make them leave with a smile on their face and more confidence, that's very satisfying to me. I really feel so happy.
What are some of the challenges or lessons you've faced along the way in your career?
I've always wanted to do EVERYONE'S hair right!? Every client or potential client that calls for an appt, in the earlier days of being in this industry, I booked everybody. I'm learning now that I am just one person and the reality is that I just can't service everyone. I'm learning to take more time for myself.
If someone is looking to join the trade, what advice would you give them?
I'd definitely suggest doing some research and finding a Loctician you can learn from and who is willing to be a mentor that has been in the business BEFORE Locs and Natural Hair were trending. It's a career you can make a six-figure income with wisdom, knowledge, and a business mindset Unfortunately, there are so many that are just in it for the money, not the love of it.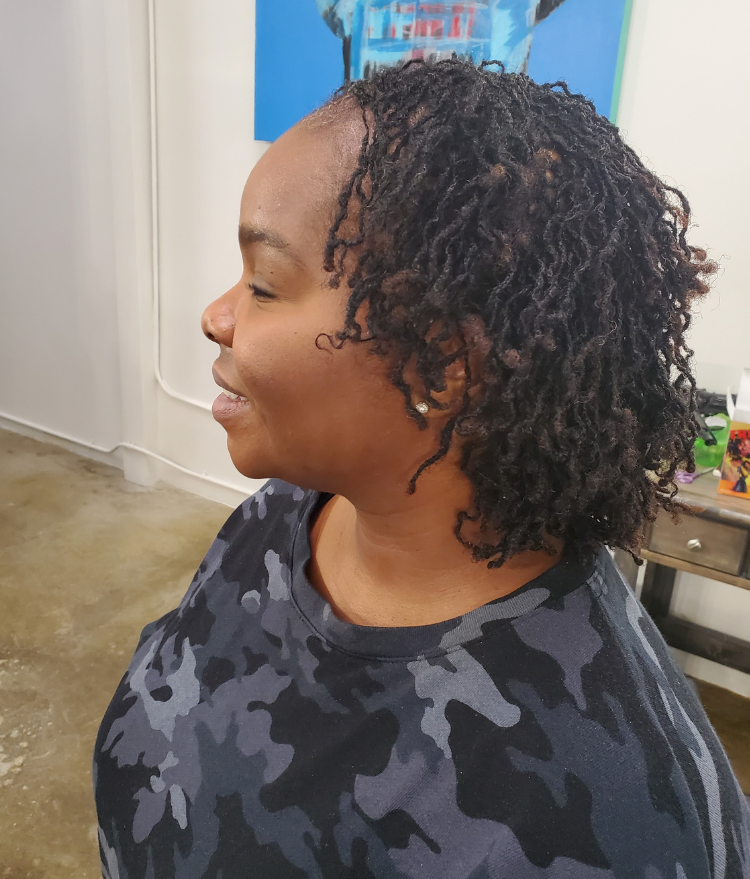 How are you using CurleeMe to grow your business?
CurleeMe has really helped me in achieving my goals. I've been able to use CurleeMe to network with other Locticians and Natural hair stylists all around. I'm thankful to CurleeMe!
What achievements in your career or life are you most proud of?
I am most proud of owning my own salon now for 8 years and completing the Certified Trichology Program. Medical was my 1st love. I used to be a Phlebotomist. A Trichologist is the middle man to a Cosmetologist and Dermatologist. To be able to combine Medical and Cosmetology in my every day career has truly been amazing!
Do you have a personal motto? Please share
When it comes to hair I always tell my clients "less is more" The more love you show for your hair (hair regimens, etc), the more love you'll get back from it.
How can we contact you?
Visit our CurleeMe Profile to view our contact information and ways to connect.
What social media channels can one follow you?
Follow us on Facebook, Instagram, and TikTok!
Any advice you would like to give Curlees out there?
It is time to embrace our crowns. Don't get all caught up on the length, trust me it will come!