Martina Nicholas
Today, we're featuring Martina Nicholas, one of our lovely hairstylists in Phoenix, AZ! From tight to loose curls, Martina specializes in all curl types. She is also an experienced colorist and barber.
Here are a few questions we asked Martina to learn more about her and what inspires her!
---
Question: Tell us about you and how you got started as a hairstylist
Answer: Becoming a Hairstylist wasn't my plan at all. I took a gap year after a semester of community college & towards the end of that year my boyfriend at the time suggested I go to beauty school. I mean, I was my own hairstylist anyway. Why not learn it & get licensed for it, if I was already doing it. That was in 2009.
Question: What do you love the most about kinky, coily and curly hair?
Answer: That it takes up space. Our hair commands attention & is so unique. Have you ever taken a look at one of your hair strands? How it twists & curves. Your hair is 1 of 1. And we have so much flexibility. Natural, protective styles, silk press, I could go on & on.
Question: What's your favorite go-to-hair-regimen you like to share with your clients?
Answer: During your first appointment I teach the process of a thorough wash day that will give you results that last. Lots of hydration meaning lots of water. Use water to help spread products, decrease frizz, & give more definition. Apply your stylers to really wet hair. Tip: put your products in the shower so you can utilize the water, instead of being at the sink.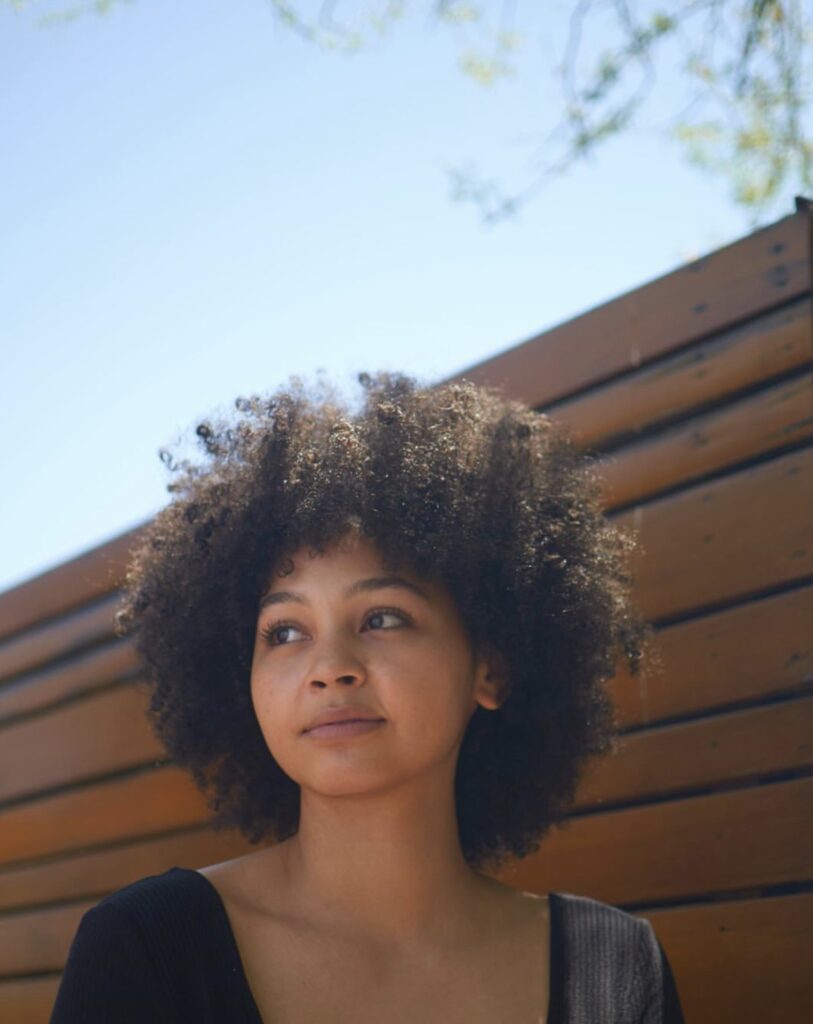 Question: What favorite products will you like to share with us?
Answer: Uncle Funky's Daughter Curly Magic- it's so hydrating! With aloe, marshmallow, & nettle it helps your hair absorb water. Innersense Quiet Calm Curl Control- a little goes a long way, but this cream is so hydrating. Perfect for a soft wash & go set. DevaCurl Pro Boost (in salon) Treatment- in 5 mins repair bonds in your hair from inside out, reducing frizz & increasing elasticity for up to 50 washes.
Question: Do you have a favorite hairstyle?
Answer: On myself, the bigger the better. Ironically as a kid, I hated the attention that having an Afro caused. I remember having a couple friends that always referred to my hair that way & I will tell them that it wasn't & feel shame that my hair did that. Now it's the complete opposite! I love taking up space.
Question: What do you consider a good hair day?
Answer: To me, a good hair day has very little to do with what your hair actually looks like. I think for a long time because of society, we have all felt the need to be primped and perfect to a standard that didn't even look like us. How do you feel in your hair today? Good? Then today is a "good hair day." Whether your hair is tightly defined or in a messy bun.
Question: What inspires you to do what you do?
Answer: Inclusion. How many beauty trends have we started! But if we walked into a hair salon most people in there would not know what to do with our hair. How does that make sense. I want us to stop feeling like our hair is a burden. Like we have to do it ourselves. Or like we can't have quality services or experiences. I am providing that, and want to continue to teach others how to as well. I also think it is very important to teach everyone how to do their own hair. So that they can put their best foot forward every day and feel good about themselves. Every day.
Question: If someone is looking to join the trade, what advice would you give them?
Answer: Do it! I wouldn't trade the fact that I enjoy what I do and feel inspired every day. But it is a lot of work. It's a lot of work to build a clientele, it's a lot of work to provide a great guest experience. Know your boundaries and stick to them. Don't let people walk all over you just because you're a student. Advocate for yourself. In beauty school, in the salon, invest in yourself. Investing in yourself is what will allow you to continue to grow and flourish in this industry.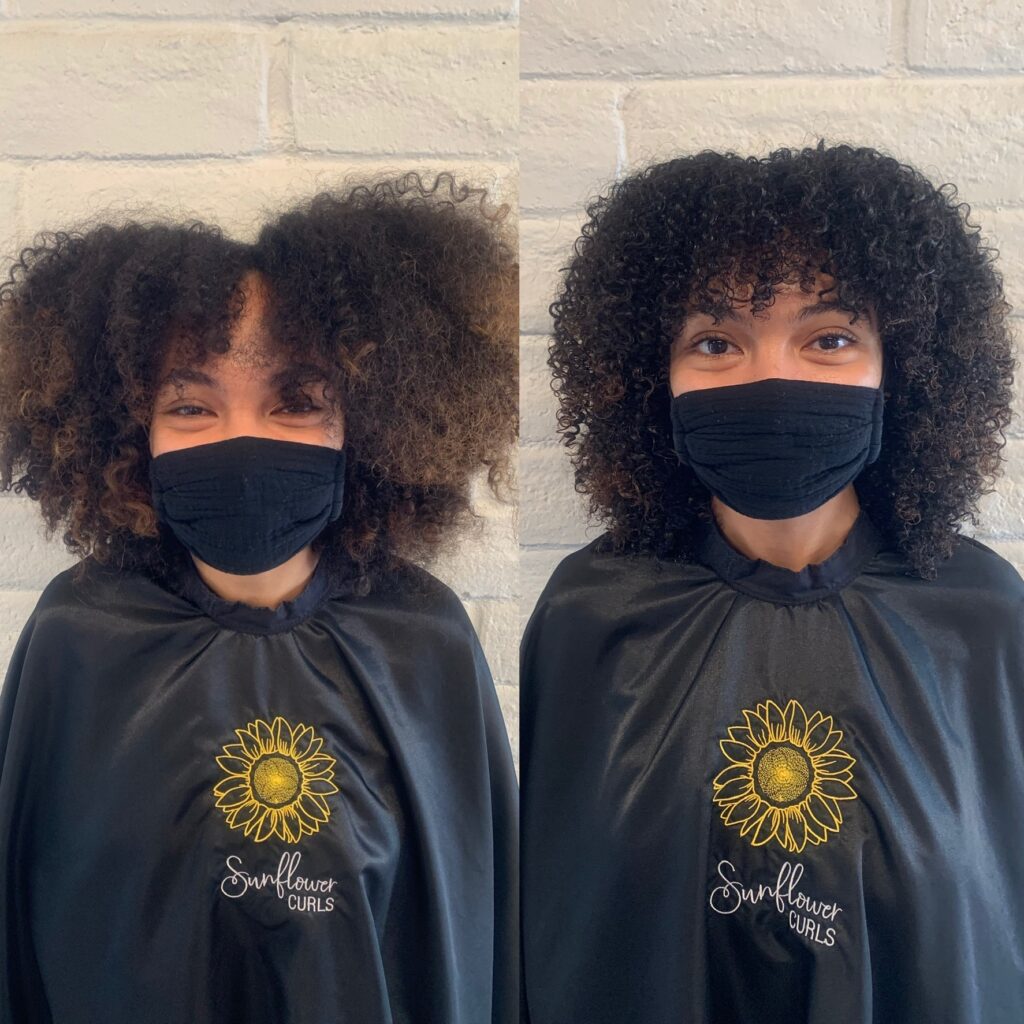 Question: How are you using CurleeMe to grow your business?
Answer: I am using CurleeMe so people in my area can find a black curl specialist. But I also would like to educate more stylists through CurleeMe as well. So look for that!
Question: What achievements in your career or life are you most proud of?
Answer: In general, I am proud that I leaned into what I really wanted to do, and specialize in curly hair. I feel like my days in the salon are so much more purposeful, and I have the opportunity to put something good in my community daily. This past year, I was chosen in a list of the top 26 black stylists by Alfaparf. I was nominated Top 100 in Natural Texture in the BTC One Shot Awards. Looking forward to winning some texture/styling competitions this upcoming year.
Question: Do you have a personal motto? Please share.
Answer: "Call a spade a spade." Be honest. Speak up, speak out & stand in your truth.
Question: How can we contact you?
Visit our CurleeMe Profile to view our contact information and ways to connect.
Question: What social media channels can one follow you?
Follow us on Facebook, Instagram, and Pinterest!
Question: Any advice you would like to give Curlees out there?
Answer: Be patient. If you're transitioning- the damage didn't happen overnight, you won't be able to "fix" it overnight either. If you want more length, be consistent! With your routine. With your trims (2-4 a year) You'll see more length. Drink lots of water, seriously. Hydration. Great for healthy hair & skin.