Aubrey Fields
Today, we're featuring Aubrey Fields, one of our lovely hairstylists in Leesburg, GA! She specializes in all aspects of natural hair care, including all curly hair types and hair color processes.
Here are a few questions we asked Aubrey to learn more about her and what inspires her!
---
Question: Tell us about you and how you got started as a hairstylist?
My first career is Nursing. I was a Labor and Delivery Nurse that did everyone's eyebrows in the breakroom on the night shift. Then I decided to go to esthetician school but with my work schedule, it was not working. So I decided to apprentice at a salon then finally went to school.
Question: What do you love the most about kinky, coily and curly hair?
Answer: It has been the thing that seems most elusive to many and it amazes me that we are just now embracing what our hair naturally wants to do and learning effective ways to care for it. I also love the ability of our hair to morph into anything!
Question: What's your favorite go-to-hair-regimen you like to share with your clients?
Answer: Keep it simple. Don't be out here harvesting black rice from Africa. Cleanse, condition and style.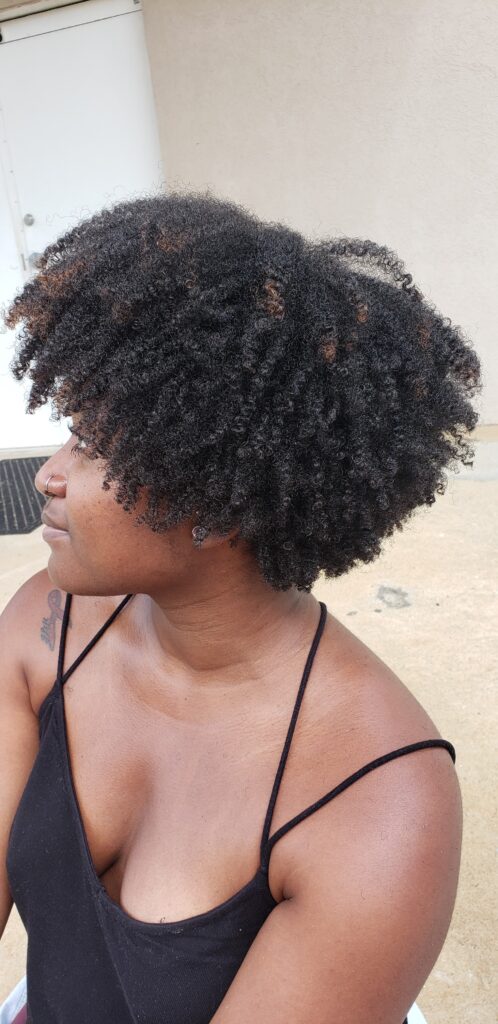 Question: What favorite products will you like to share with us?
Answer: I'm loving the universal effectiveness of AG Naturals Balance and Boost for a gentle clarifying. Innersense Hydrating Hairbath/Conditioner.
Question: Do you have a favorite hairstyle?
Answer: Yes ma'am! Wash N Go or my signature Coily Go!
Question: What do you consider a good hair day?
Answer: Day 3 hair on a Dope cut..definition + volume = Bomb Hair!
Question: What inspires you to do what you do?
Answer: Honestly, it's not about the hair. It's about connection. I love to empower women to be their best, authentic selves. So one day we talk about hair, maybe next visit you need help brainstorming a challenge. Or you need a push to elevate your business idea into action. I'm down for it all!
Question: If someone is looking to join the trade, what advice would you give them?
Answer: I believe everyone needs a mentor. Find someone that is doing what you love to do. Be willing to spend a few weeks volunteering ( yes working for free). And be a sponge. So many young stylists come out of school with cotton candy and teddy bear dreams of blowing up simply because you know how to lay a lacefront. Well, I have news for you…it doesn't work like that. Hence, the term "starving artist". I actually have started developing a course to help with the mindset for laying the foundation for success in business for new stylists.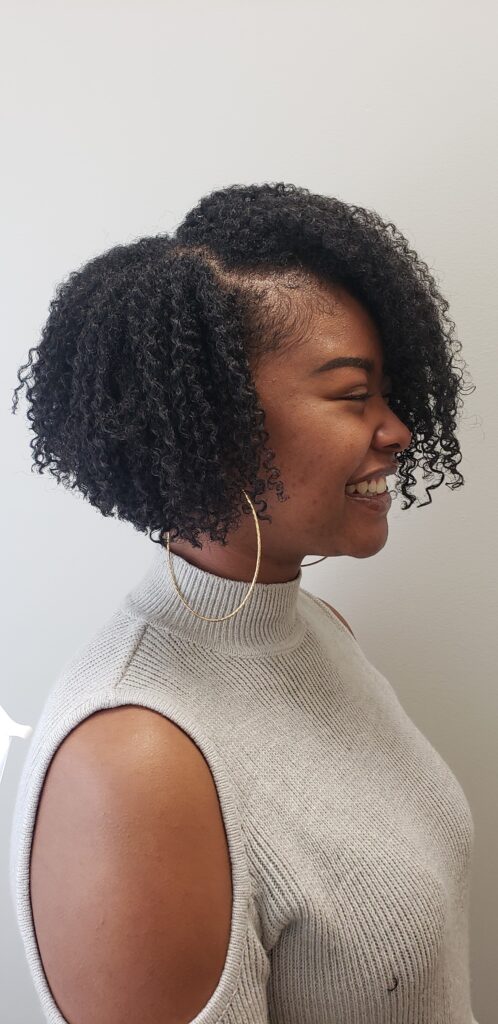 Question: How are you using CurleeMe to grow your business?
Answer: The best way to be seen is to…..be seen! If you are in some obscure corner of the internet then it becomes even more challenging. I feel my voice on CurleeMe is heard in these internet streets.
Question: What achievements in your career or life are you most proud of?
Answer: The hardest job on earth is being a mother So with God's help, raising two daughters into Respectful, Caring, Responsible, Highly intelligent, Resourceful women in today's world is a feat unto itself. This is my proudest accomplishment.
Question: Do you have a personal motto? Please share.
Answer: Because I don't deal well with mediocrity. I do all things with excellence to the best of my ability. So no half-stepping. Do it all or not at all!
Question: How can we contact you?
Visit our CurleeMe Profile to view our contact information and ways to connect.
Question: What social media channels can one follow you?
Follow us on Facebook and Instagram!
Question: Any advice you would like to give Curlees out there?
Answer: When you focus on haircare, a beautiful style is an automatic result!